I currently have several sizes available for players to explore, and I'm continuing to experiment with and develop new sizes. There are two variables in delineating size. First is the length to which the tube is cut, which changes the resulting depth at which the bell ring sits in the bell.
Depth is indicated by a roman numeral. Larger roman numerals indicate a shorter tube which results in a ring that fits deeper in the bell (greater number=greater change to the tone). Generally, a bell ring that fits deeper will lower the pitch of low Bb more and have a slightly different effect on the resonance and response of the low register. There seems to be a sweet spot to be found for each player and setup, especially when it comes to balancing the ideal pitch of low Bb and the improved response of low B.
The second variable of sizing is the thickness of the tube. A bell ring made from a thicker tube will lower the pitch and darken the tone more without having to fit as deep in the bell. Many players find that they prefer moving to a thicker bell ring instead of having one that fits especially deep. A thicker bell ring is delineated with a plus '+'. Additionally, there are thinner bell rings delineated with a minus ' - '.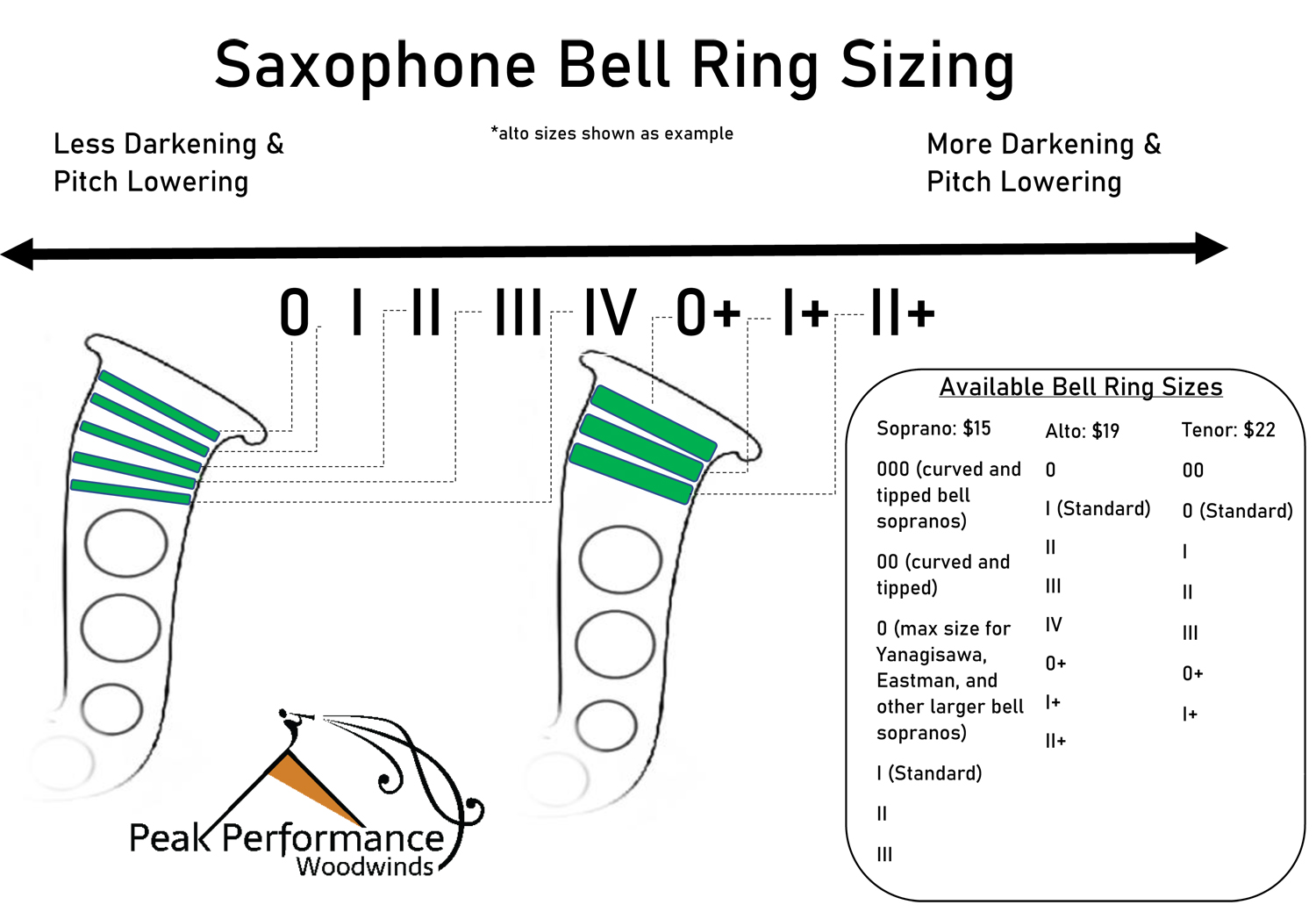 Selecting a bell ring without being able to test them in person can be a challenge, as there are currently seven different sizes for alto alone. I have settled on two "standard" sizes of alto bell ring that seem to work well for most people—sizes I and I+. Size I is made from the tube thickness and length of the original design, and is standard because it improves tone, pitch, and response while being fairy noninvasive. You can't go wrong with size I. Size I+ is made from a thicker tube than size I and its tube is cut to the same length (due to the thicker tube, size I+ has a slightly shallower fit than size I). If someone desires to try two safe but different options, I recommend ordering sizes I and I+. I have also been getting very positive feedback from many players on size 0, which is the least invasive size. If you seek to change the tone of low B-flat as little as possible while improving pitch and response, I recommend trying this size (especially if you have tried traditional cloth saxophone mutes and disliked them). Additionally, for the player who would like to order every size to find their ideal size, I accept returns for full refunds (buyer pays shipping). Please get in touch with me if you plan to return any bell rings.
For soprano, there are currently four sizes. Size I is standard, and is the largest size that fits easily in most popular soprano saxes, such as models by Selmer Paris and Yamaha. Size 0 is slightly larger for larger belled sopranos (such as Yanagisawa and Eastman sopranos). Sizes 00 and 000 are even larger to accommodate the significantly larger bell diameters of curved sopranos and tipped bell/saxello style sopranos. Some people prefer the effect of a bell ring that fits deeper, such as size II or III, regardless of what make/model instrument they play--it mostly comes down to personal taste. As a default, I recommend first trying the least invasive sizes (those that fit nearest to the bell flare), then try deeper sizes if more darkening or pitch lowering is desired.
For tenor, I currently offer sizes 000, 00, 0, I, II, III, 0+, and I+. I designated size 0 as the "standard" size just because it is the size I originally settled on when I was first designing these, and I feel that it is generally a safe option for players who don't want to order every single size to try. If you want something that changes the sound as little as possible, but offers similar pitch correction and improved response, I recommend size 00 or 000. Players who are after a very small pitch correction with minimal change to the timbre, especially jazz players, should consider these sizes.

Players who often switch mouthpieces may find that their preferences in a bell ring are affected by their equipment. For instance, I once prefered a size III alto bell ring when playing my classical setup, but when I switched to my jazz setup I noticed that low B was less responsive. Switching to a size II brought low B back to life, and lately I'm gravitating more to size 0 with my jazz alto setup, and 00 for my jazz tenor setup.
I value feedback from players! Please do not hesitate to share any thoughts and opinions you may wish to share with me after trying my products. In the past this has lead me to the creation of custom sizes, which I am happy to provide. For instance, I have once made a size 00- alto bell ring, which used a thinner tube and a conservative fit in the bell for minimal pitch lowering. Many of the sizes I currently list as options began as custom sizes. If you are interested in custom sizing, please contact me directly!